Niche Website Success
Niche Website Success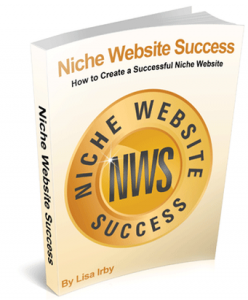 Your Work From Home Success

Starts Here
What is it that you know a lot about that you could possibly turn into a home based business that others can benefit from.  People are always looking for information; useful information.  Information that they can apply to some area of their life.  Did you know that you can take the information and build a highly successful business?  Well, you can.  Just write what you know; be honest and always know that you don't have to use a bunch of fancy words.  Just speak from experience using the knowledge you've been given.  It's just that easy and you'll be changing lives for the better.
Are you a stay-at-home mom who wants to learn how to work from home? Have you been thinking about starting a home based business of your own, but you don't have the resources you need or perhaps you may be thinking that you don't have the tools you need to build a highly successful work at home business. Here's a little priceless information to help guide you in reference to starting your home based business. It's your checklist to help you get started in the easiest way possible:
You need your passion to help you to fuel your business before launching it.
Please write down your gifts, skills and abilities.

What are you exceptional at doing?

What do you love to do that maybe you can turn into a home based business.

Are you good at solving people's problems?
If you've answered yes, you could be on your way to enjoying an amazing home based business with an informational site that can help people find the answers to solutions that they just can't seem to find on their own. This is called a niche website and this is an excellent home based business that can grow beyond anything you could ever imagine because if you're an expert in a certain field, you'll never run out of content to write. You don't have to be an excellent writer either; just write from the heart from real life experiences; it doesn't get any easier or better than that. This is what my site is; a niche site. I have been working from home for 10 years now and I never ever run out of things to write about because I write my own experiences in every aspect of my work from home business and the best thing about this is that I just love sharing what I know with other stay-at-home moms who want to start their own work from home business. You can do the same.
Start your work at home business today by Going Here!